paradoks – at the edges of documentary
27 October — 9 November 2019
Exhibition & Panel discussion
Petersbogen (near Cinestar)
Petersstraße 36-44
open daily 10:00 — 20:00
Film programme
Cinémathèque Leipzig in der naTo
Karl-Liebknecht-Str. 46
parasound:
mjut
Lagerhofstr 2
04103 Leipzig
paradoks brings together video installations, short films and fiction films of local and international artists who work on the intersections of film, art and activism and whose approaches and aesthetics operate at the edges of documentary filmmaking. In their works, facts are modified by fictionalised, journalistic and investigative techniques like image processing methods and re-enactments.
The exhibition consists of a selection of multichannel video installations which are grouped into two thematic areas. While 'Arrival' deals with the different realities of migration and (non)arrival in German society, 'Precarious Bodies' explores the working conditions of contemporary artistic production.
There will be a panel discussion on the 27th of October, inviting artists and curators to discuss the activist potential inherent in these constantly shifting boundaries. Which approaches and methods can provide adequate counter-images in view of political conditions in the age of fake news and increasing right-wing populism?
On the 2nd of November, parasound will open its gates at mjut to explore the acoustic dimensions of documentary inspired art forms through a combination of short films and performances which will conclude in a club night.
The Cinémathèque Leipzig will probe into these semi-factual border zones by taking fiction films as a starting point. With a series of eight feature films, we are invited to embark on a journey in which the different types of interplay between fiction and reality become visible. The program is accompanied by introductory talks and film discussions.
Exhibition & Panel discussion
Petersbogen (near Cinestar)
Petersstraße 36-44
open daily 10:00 — 20:00
free admission
Opening: 26th October 2019, 7pm - Drinks and art in the shopping mall!
Finissage 9th November 2019, 7pm
40H, MAX. 2 MONTHS
Stefanie Schroeder 2017 45 min 2-channel video installation German with English subtitles
To speed up my developing career as a full-time freelance artist and end my reliance on state benefits, I was urged to take part in a programme called "Business Optimisation – a needs and situation-oriented skills training course for employable, eligible freelancers." The group seminar, which lasted several weeks, was designed and delivered by a business consultancy firm.
My request to document the programme in a film was rejected. Using notes of our conversations,
handouts, my dream diary and my F5.5 form, I turned my "efforts of becoming an artistic entrepreneurial personality" into a script. In this script the roles of being an artist, entrepreneur and benefit seeker collide and I am the sole actor. What is optimisation? Which type of language is used? How does it describe, adjust and, if necessary, distort my actions and personality? What can we learn about our self-image from online Photoshop tutorials?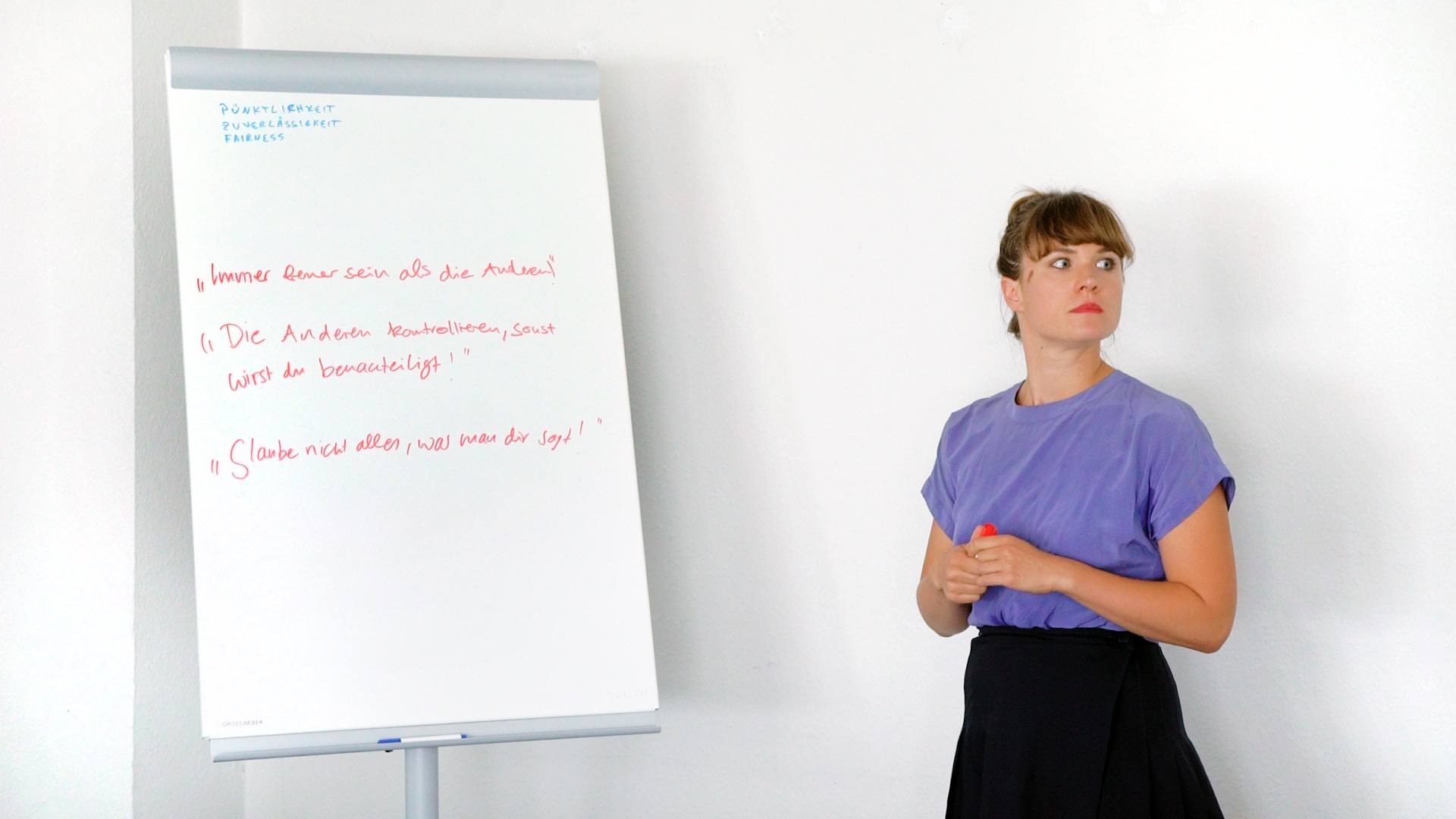 DIARIOS DE TRABAJOS
Paula Ábalos 2019 30 min 2-channel video installation Spanish with German and English subtitles
WORK DIARIES consists of a compilation of video diaries that Paula Ábalos has created during the last five years. She documents her time in different service jobs she has performed (in Chile and Germany) parallel to her artistic work to cover her costs of living.
In these autobiographical videos, which she first shot with her cell phone and later with hidden cameras, Ábalos appears working as a supermarket promoter, a kitchen assistant, preparing sausages in a stadium, cleaning in a fitness studio and working in a package distribution center. These videos emphasize the different times and rhythms of each work and describe - by voice over and texts - her tasks, the places of work and her perspective on her work and the workplace. Thus, it shows the contrast between the impersonal appearance of the locations and her personal view after remaining in them for hours.
This video diaries are a way of recovering the lost time in which the author rents her body to companies, trying to reappropriate those hours, so they don't vanish.
The project originates from the situation of not having time to develop her artistic work after having worked for a long time in a supermarket. Thus, the author decided to transform the space of her job into her studio, trying to materialize her observations in videos and notes. Methods she keeps up in current jobs.
WORK DIARIES remains in continuous development depending on new jobs that Ábalos performs, attaching new chapters to it.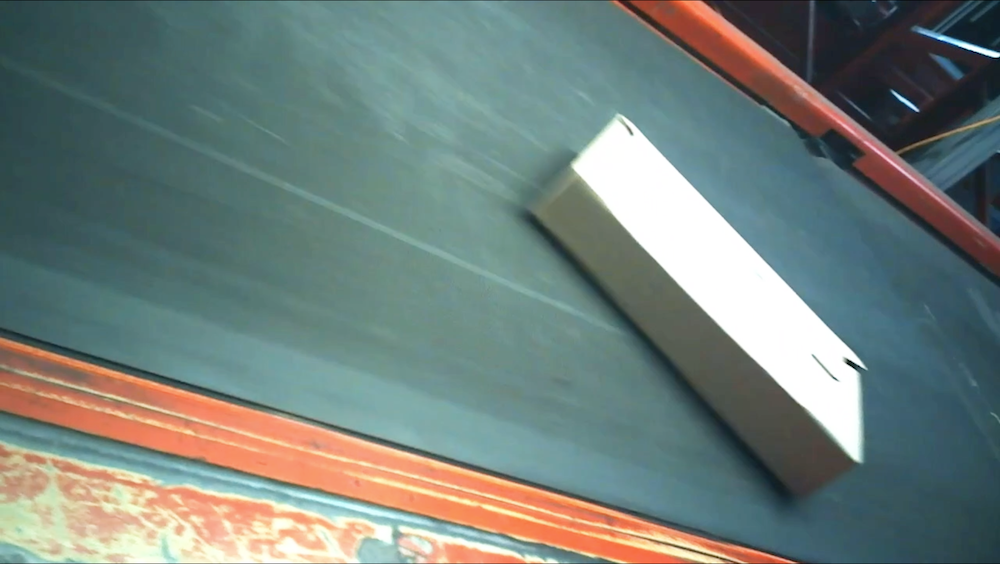 HABITAT
Emerson Culurgioni & Jonas Matauschek 2019 50 min 4-channel video installation German and English subtitles (alternating)
After the end of the GDR, Geiseltal, a former open pit mine, was renaturised and flooded and became the largest artificial lake in Germany. Standing in his community garden, Reinhard Hirsch looks out that spot in the lake where his grandparents' house once stood. His home village of Zöbigker had to make way for mining. Bee-eaters, colorful migratory birds with an unmistakable call, nest in the deserted dumps. Christine Lattke is standing in the middle of the industrial ruins and waits with her camera for the return of the birds from their winter home in Africa. On the shores of a small cove, Ganiyou Idriss from Niger spends his monotonous days while he waits for his asylum application to be decided upon. The Kurdish poet Farhan Kalasch lives on "Glück-Auf-Straße"– literally "Good Luck Street" – in a former mining town. After receiving asylum in Germany, he is now trying to bring his wife and children to join him in the country. In each episode, the video installation carefully evolves around and explores the topic of "migration."
AGAIN - NOCH EINMAL
Mario Pfeifer 2018 42 min 2-channel video installation German with English and Arabic subtitles
In Mario Pfeifer's two-channel video installation AGAIN – NOCH EINMAL, a case of vigilant justice is re-examined and turned into a painstakingly elaborate re-enactment. The starting point is a true story: in the small town of Arnsdorf in Eastern Germany, four random strangers join forces in an ad hoc militia and attack a refugee they witness complaining at a local supermarket. The men drag him to a nearby parking lot, tie him to a tree and restrain him using zip ties.
Pfeifer reconstructs this case and the biography of the victim, Schabas Saleh Al-Aziz by combining genuine CCTV footage and methods of investigative journalism with re-enactments and elements of parody on the role played by mass media. In a manner that takes advantage of the power of clickbait, two presenters guide the audience through AGAIN – NOCH EINMAL and showcase the public outcry that ensued and that was not so much concerned with Al-Aziz's personal health but with the question of where to draw the line between civil courage and vigilant justice. Parts of public debate also centred on the fact that the case was never tried in court. When Al-Aziz's life came to a tragic end, the court no longer saw a public interest in prosecuting the four men and subsequently closed the case. Acting on an additional narrative plane, ten members of an audience with different experiences as migrants and refugees, among them a Russian immigrant and a GDR refugee, express their views on this incident and report on their own personal experiences.
STRANGERS' DIARIES
Amel Alzakout & Khaled Abdulwahed 2019 35 min 8-channel video installation
The video installation follows the memories of two lovers in their journey from home to a bizarre new world. Years ago, a woman, a man and a cat met in one of the war zones that started to spread all over the world. They manage to live together in temporary safe zones. As these safe zones vanish one after another, their only chance to survive is to leave the planet. They are eager to escape the Earth. But only the man receives an approval to travel on a spacecraft to a planet far away. The two lovers promise each other to reunite as fast as possible. The man leaves. Time is passing by and the two lovers are desperately longing and dreaming of their reunion. But how?
Both are too far away from each other, lonely and stuck. He's locked in an abandoned district, and she lives in a rapidly collapsing world. He doesn't know what to do, and she can't wait anymore. Eventually she decides to jump into space to travel to her lover. From a woman wearing a gas mask while standing next to her wardrobe and a man staring at a TV channel projected on a wall to the lovers laying on a door before their farewell – seemingly absurd and photographic scenes, bizarre spaces and soundscapes gradually reconstruct the memory of the lovers' journey. Set in a poetic, almost dream like Sci-Fi, the work is a curious mixture of autobiography and fantasy.
Panel: counter fake news. Activism and subversive strategies of the documentary
Panel will be held in German, English translation available
The authority of the documentary regulates and controls the production of knowledge and defines collective and individual processes of appropriating reality. With the claim of contemporary art to mediate and process this reality, documentary forms have become enormously relevant at least since the 1990s.
Against the backdrop of the current discourse on truth, this has increased further and is formulated in the claim to have an effect on concrete social and political constellations, but also to want to articulate its own rhetoric of truth.
Among other things, with the thesis that documentary works do not have to be questioned in terms of their representation of reality, but rather in terms of precisely this rhetoric of truth, we want to get into conversation with artists. Not as accurate or correct, but in what political way do their works relate to reality?
The video artists and filmmakers Amel Alzakout and Clemens von Wedemeyer as well as the artist Mischa Leinkauf – considering examples of their concrete works - reflect on their aesthetic techniques, such as alienation, imagination or counter-information and activism. The panel will be moderated by Inga Brantin (GEGENkino) and Jonas Matauschek (FILZ).
In Stranger's Diaries, Amel Alzakout and Khaled Abdulwahed tell of an escape in form of a diary in which documentary elements can hardly be discerned, and with an enormously stylised visual language. Autofiction in the guise of an interstellar SciFi love story that renounce using circulating footages of individual migration experiences. Using modern imaging techniques, Clemens von Wedemeyer has recently dedicated himself to real events such as the Monday demonstrations in Leipzig, but also to other phenomena inscribed in the global image archive in which masses of people form. At the centre of the works currently on display in the GfzK is the question of how political will is formed and expressed under conditions of digitality.
In Mischa Leinkauf's latest work "Fiction of a Non-Invitation", the absurdity of politically motivated border barriers is revealed. In one performance he crossed the border between Israel and Egypt under the sea surface. In another work "White American Flags", the artist duo Wermcke/Leinkauf exchanged in a dawn raid, the flags on the Brooklyn Bridge for discolored, almost white US flags. The enormous media echo reveals which social scope art can have today.
Fiction film on the edge of documentary
28.10 to 2.11.
Documentary and fiction films both draw on reality - even if their realities may differ and are approached from different angles. The former aims to carefully avoid or disguise any traces of intentional staging. In fiction films, it is precisely this mise-en-scène and the creation of an artificial space which forms a prerequisite for creating an authentic cinematic experience for the audience.
But what happens if the instruments and conditions of documentary filmmaking are transposed onto a fiction film?
What happens if a fiction film not only shares but hands over control over its staging processes? And what happens if it incorporates documentary images to create a fictional narrative?
curated by Sven Wörner and Sarina Lacaf
Cinémathèque Leipzig in der naTo
Karl-Liebknecht-Straße 46
www.cinematheque-leipzig.de
6,50 € / reduced 5 €
with Leipzig-Pass or Schwerbehinderten-Ausweis 3 €
+1 € over 130 min film length
PUNISHMENT PARK
Peter Watkins USA 1970 88 min English OV with German subs
with Carmen Argenziano, Patrick Boland, Kent Foreman
Peter Watkin's pseudo documentary is set in a fictional America of the 1970s. Convicted dissidents fight for their lives in Punishment Park, where they are chased by National Guard soldiers. Within the fictitious frame, the performers express their personal views in improvised dialogues.
KILLER OF SHEEP
Charles Burnett USA 1977 81 min English OV with German subs
with Henry Gayle Sanders, Kaycee Moore, Charles Bracy, Angela Burnett, Eugene Cherry, Jack Drummond
In a melancholic version of neorealistic aesthetic, KILLER OF SHEEP depicts life of urban African-Americans in Los Angeles' Watts district, in the mid-1970s. The camera follows Stan – exhausted and blunted by his work at the slaughterhouse, he is nevertheless a sensitive dreamer – through a simple everyday life.
DRAGONFLY EYES
Bing Xu CHN 2017 81 min Chinese OV with English subs
A fictional plot, exclusively composed of real footage from various surveillance cameras. With his formal experiment Chinese artist Xu Bing reflects on the terror of surveillance in the public space and at the same time shows that there is a lot of room for interpretation in each document.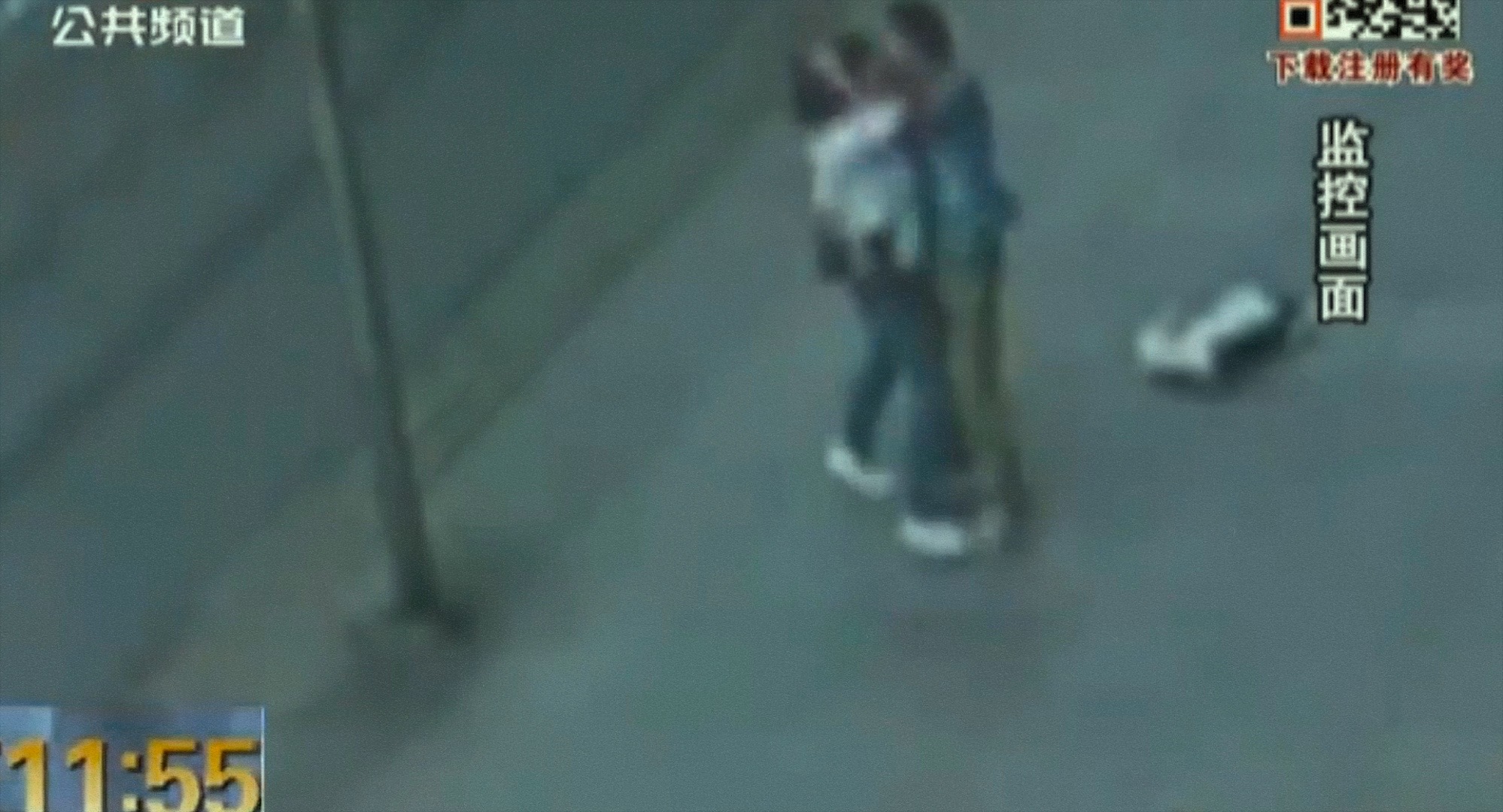 IN THE LAST DAYS OF THE CITY
Tamer El Said EGY, D, UK, AE 2016 118 min ARABIC OV with German subs
with Khalid Abdalla, Laila Samy, Hanan Youssef, Maryam Saleh, Hayder Helo, Basim Hajar, Bassem Fayad, Ali Sobhi
The snapshot of a city on the eve of an upheaval: Cairo 2009, two years before the Egyptian Revolution. Tamer El Said's alter ego Khalid desperately struggles to capture the soul of his hometown in a documentary before it changes forever. The protagonists of this film seem to drift into a secondary role in the face of the immense reality that takes its course on Cairo's streets.
SOLEIL Ô
Med Hondo MRT, FR 1969 98 min French OV with English subs
We Live in Silence
Kudzanai Chiurai ZW 2017 37 min English OV
"The original idea was to show tourist spots packed with blacks only. All of a sudden you would see Sacré-Cœur, and you would see only blacks. It would have had a powerful cinematographic impact. But the idea remained on paper and wasn't translated into images." (Med Hondo, Jeune Cinéma, 1970)
SOLEIL Ô tells the story of a Mauritanian migrant in Paris. As a formally advanced cinematic manifesto it denounces a modern form of slavery against "second-class" residents.
Kudzanai Chiurai takes Hondo's film as a starting point to juxtapose dominant colonial narratives with counter-memory.
OUR BELOVED MONTH OF AUGUST
Miguel Gomes PRT, FR 2008 147 min 35mm Portuguese OV with English subs
It's high summer in the mountain region around Arganil in the heart of Portugal. Starting from documentary sequences which portray life in the village community, the film gradually drifts towards fiction while centering around an incestuous love story.
BESCHREIBUNG EINER INSEL
Rudolf Thome, Cynthia Beatt DE 1979 192 min German OV
Five European researchers reach the remote volcanic island of Ureparapara in the north of the New Hebrides to study the geographical conditions of the island and the customs of its inhabitants. So much fort he story. In reality, it is Rudolf Thome, a handful of actresses and the film crew who set out on an expedition for six months.