paradoks 2021 – at the edges of documentary
Video Art Festival
October 23 – November 14, 2021 in Leipzig
February 26 – March 17, 2022 at WRO Art Center in Wrocław
further information here
Opening Wrocław: Sat, February 26, 2022
6 pm: WRO Art Center
Opening hours:
WRO Art Center | Widok 7, Wrocław
Wed: 11 am – 6 pm
Thu: 2 pm – 8 pm
Fri: 2 pm – 6 pm
Sat: 12 pm – 4 pm
Sundays with WRO: 12 pm – 2 pm
//////////
Opening Leipzig: Sat, October 23, 2021
6 pm: HGB Galerie & GfZK
8.30 pm: Spinnerei WERKSCHAU Halle 12
Performance CONJURING von Ben Russell
Opening hours:
HGB | Wächterstraße 11, 04107 Leipzig
Mon – Fri: 2 pm – 8 pm
Sat – Sun: 10 am – 4 pm
GfZK | Karl–Tauchnitz–Str. 9 – 11, 04107 Leipzig
Tue – Fri: 2 pm – 7 pm
Sat – Sun: 12 pm – 6 pm
WERKSCHAU Halle 12 (Spinnerei) | Spinnereistraße 7, 04179 Leipzig
Mon – Fri: 2 pm – 8 pm
Sat – Sun: 12 pm – 8 pm
All exhibitions and events are admission free
paradoks - at the edges of documentary
paradoks operates at the intersection of art and the moving image and is dedicated to documentary formats beyond the confines of conventional cinema. Today's range of documentarisms is becoming a field no longer explored by filmmakers alone. Journalistic research and re-enactments, an incorporation of scientific findings or analyses of found material are essential aesthetic strategies employed in the visual arts and beyond. Increasingly, interdisciplinary projects which operate at the intersections of activism, science and art are looking to find new forms of visualising the state of the world, as they take a peek behind the curtain of of public news reporting and the torrent of images we are exposed to in social media.
paradoks is a platform for precisely such multifaceted perspectives, whereby they are depicted but also questioned in terms of their socio-political preconditions. The exhibition will be divided into two thematic fields.
From a historical perspective, the works of EMPOWERMENT address colonial structures and their consequences for the present-day. These include racism, the formation of diaspora and poverty in marginalised communities. Here, camera angles, the hierarchy of frames and the question of who is talking about whom play just as much a role as the interplay between social realities and their representation. PSYCHEDELIC ANTHROPOLOGY, operates along the boundaries of visual anthropology and explores altered states of consciousness and bodily sensations, deliberately induced through cultural techniques such as research, dance, music and hiking – all of which are methodological ways of re-exploring the human condition. In these works, the lines separating documentation and fiction becomes invisibile.
The Artist Talks took place as part of the paradoks Festival 2021 on October 24 & 25 in Leipzig.
Moderation: Charlotte Bolwin & Undine Rietz
Production: KANTE GbR
Spinnerei WERKSCHAU Halle 12
SPIN
Ginan Seidl DEU 2021 30 min 3-channel video installation
The spin is a unit established in quantum mechanics to describe the angular momentum of very small particles. In this work, various forms of thinking, doubting, and spinning are explored audiovisually, spatially, and linguistically. This leads to a reflection on the body and mind as instruments for experiencing that which is situated along the lines of science and spirituality. Fictional dialogues, interviews, quiet recordings of circular movements as well as documentary observations of a Sufi ceremony blend into one another. Spinning around in their dance, the bodies of the dervishes not only act as an antenna for a perceived divine power, they also become a resonating chamber that amplifies and transforms energies to eventually allow their release into the social space of the Umma (a community of believers). Within the context of an interview, SPIN questions the extent to which ritualised (and thus sometimes vacuous) behavioural forms prevent us from grasping the true essence of things. In this way, the possibility of leaving behind an understanding of the world revolving only around itself is made impossible.
Ginan Seidl, born in Berlin, now lives and works in Halle (Saale) and Berlin. After completing her studies in art in Halle (Saale), Berlin and Mexico City, in 2012 and 2016 she attended the Professional Media Master Class and the Master Class Lab of Werkleitz e.V. She has received various art awards and taken part in fully funded residency programmes in Istanbul, Mexico and Libanon. Her work has been shown at international film festivals, such as FID Marseille, Berlinale/Forum Expanded and CPH:DOX, as well as various exhibitions and art festivals. She is part of the film and art collective FILZ.
SPIN was funded by the Kulturstiftung Sachsen-Anhalt, the Kloster Bergesche Stiftung and was created within the framework of the PMMC Labs of the Werkleitz Gesellschaft e.V.; supported by the Mitteldeutsche Medienförderung GmbH and the state of Saxony-Anhalt, from ESF (European Social Fund) funds.
The Invisible Mountain
Ben Russell USA 2020 114 min 2-channel video installation
The mountain as leitmotiv for the overcoming of personal limitations: the allegorical adventure novel "Mount Analogue: A Novel of Symbolically Authentic Non-Euclidean Adventures in Mountain Climbing" by French author René Daumal has already inspired works by Patti Smith, John Zorn and Alejandro Jodorowsky. Ben Russell takes this novel as his starting point for this multi-media narrative search for a utopian mountain floating in the sea. With neon sculptures, six screens and eighteen speakers arranged in an installation that stretches across time and space, we are invited to embark on the different stages of a journey. This journey is based on a hike by artist Tuomo Tuovinen who travelled across Europe, from Finland to Greece. He was accompanied by Russell who intermittently filmed him with his 16mm camera. The film material is interlaced with various elements: interludes, concert recordings and rehearsals, recitations from Mount Analogue, brain wave measurements of Tuovinen and mountains shaped by sound waves. Step by step, the audience is led to explore the dark rooms while the sound reaches dramatic heights and flashes of colours make triangular shapes.
Ben Russell is a visual artist and filmmaker from the US and currently living in Marseille. His work enters into a dialogue about the history of the documentary image and explores the intersection between psychedelia and ethnography. He was an exhibiting artist at documenta 14 (2017), and his work has been shown at the Centre Georges Pompidou, the Museum of Modern Art, the Museum for Contemporary Art Chicago, the International Film Festival Rotterdam and the New York Film Festival. Russell received the 2008 Guggenheim Fellowship and the FIPRESCI International Critics Prize (IFFR 2009)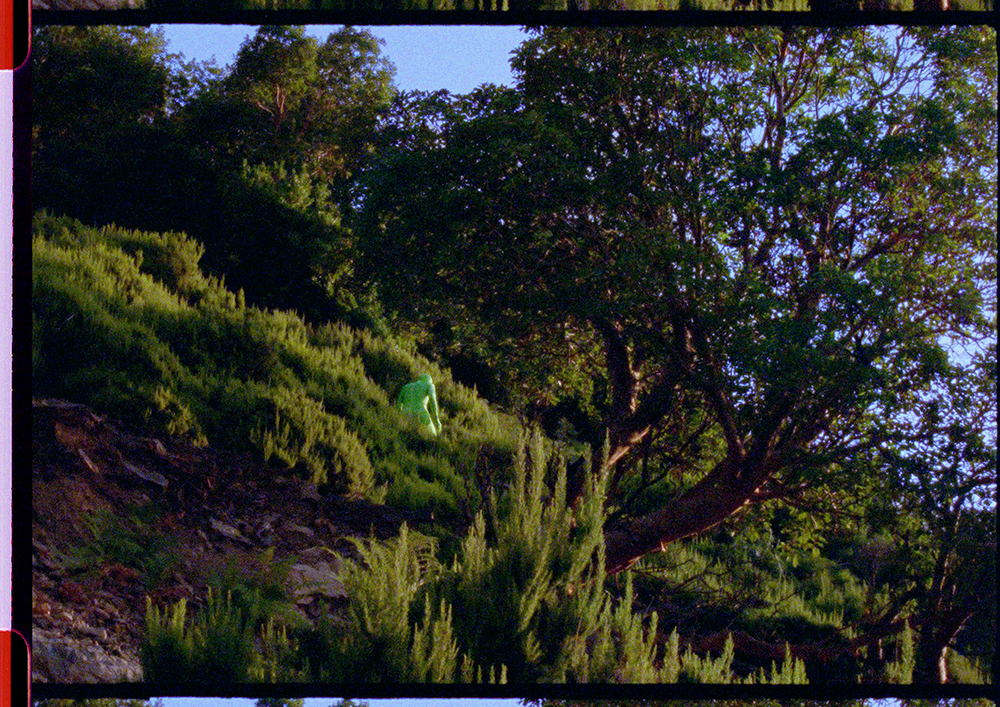 Performance CONJURING by Ben Russell
as part of the opening of the paradoks festival 2021
Artist-Talks with Ben Russell and Ginan Seidl
Talk will be held in English.
Gallery of the Academy of Fine Art (HGB) Leipzig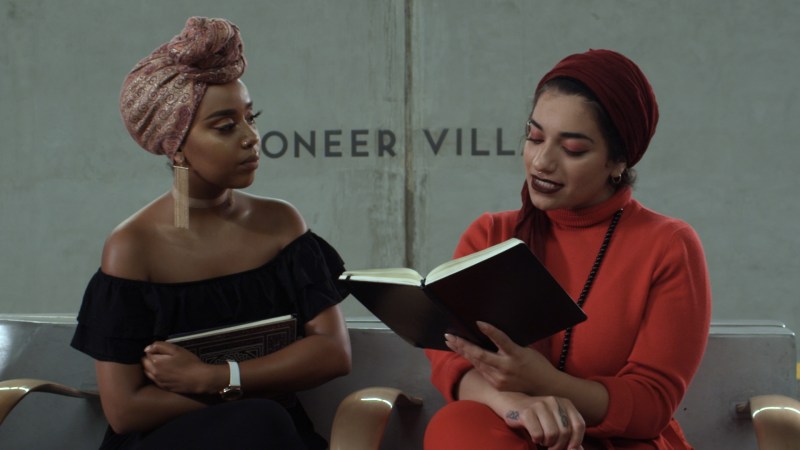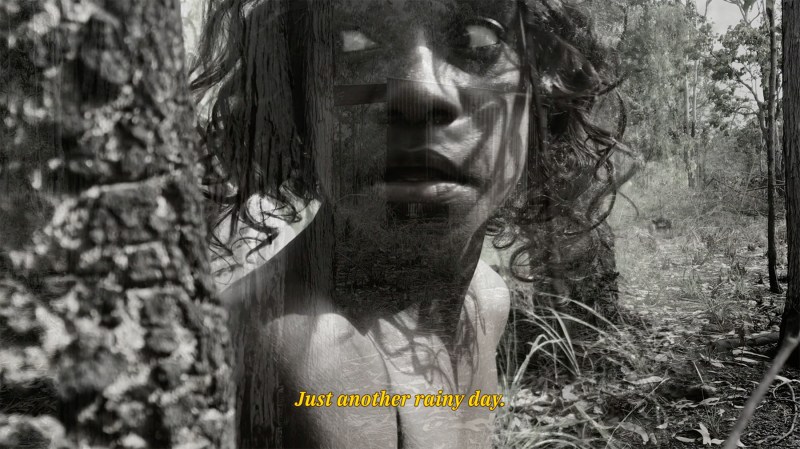 RISE
Bárbara Wagner & Benjamin de Burca BRA/USA/CAN 2018 21 min 1-channel video installation
The acronym RISE stands for 'Reaching Intelligent Souls Everywhere'. The name of Bárbara Wagner and Benjamin de Burca's film RISE, which investigates methods of community based empowerment, is directly borrowed from the group RISE, a self proclaimed EDUTAINMENT company that hosts weekly events in Toronto's suburban community centres where participants meet to share spoken word poetry and songs in a non-discriminatory 'safe space' atmosphere. The film takes place underground, in the Toronto Transit Commission's subway extension, built to increase mobility connecting the city centre with peripheral neighbourhoods, mainly populated by immigrants of Afro-Caribbean descent. Down in the tunnels of the Subway, poets, rappers, singers and musicians negotiate their status as first and second-generation Canadians, as well as their status as settlers living on borrowed Indigenous land through performances. The result is an experimental one, in which Wagner and de Burca adopt their typical, candid documentary approach. Their set design extends into space exposing the artificiality of the urban landscape in which the "rapping souls" struggle for their liberation.
Working collaboratively since 2011, Bárbara Wagner & Benjamin de Burca have shown their works in exhibitions, biennials and film festivals, including: the 33rd and the 35th Panorama de Arte Brasileira, the 32nd São Paulo Biennial, the 20th Festival de Arte Contemporânea Sesc VideoBrasil (São Paulo, Brazil); the 67th, 68th 69th and 71st Berlin International Film Festival (Germany) and the 72nd Locarno International Film Festival (Switzerland). They have also presented solo exhibitions internationally, including Jumex Museum (Mexico City) and the Stedelijk Museum (Amsterdam). In 2019, Wagner & de Burca represented Brazil at the 58th Venice Biennial.
A special thank for the invitation to the Academy of Fine Arts Leipzig (HGB) and curator Ilse Lafer as well as coordinator Adrian Lück.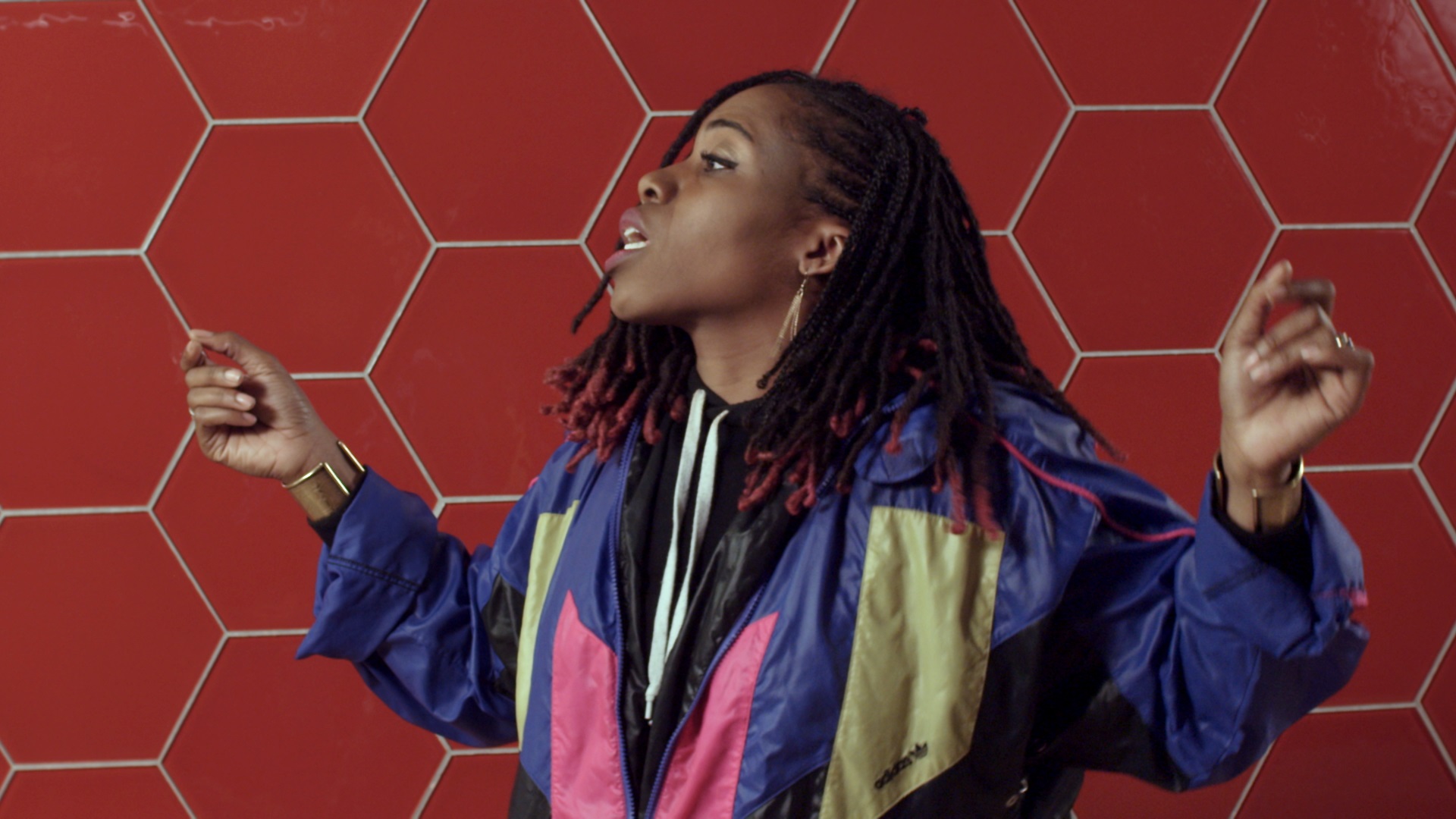 Artist-Talk with Bárbara Wagner and Benjamin de Burca
In the gallery of the Academy of Fine Art (HGB) Leipzig. The talk will beheld in English.
Day in the Life
Karrabing Film Collective AUS 2020 33 min 1-channel video installation
The Karrabing Film Collective adopts a somewhat different approach to empowerment. DAY IN THE LIFE, a 1-channel video work, depicts a typical day within the community. Composed of five chapters, satirically titled "Breakfast", "Play Break", "Lunch Break", "Cocktail Hour" and "Takeaway Dinner", the film illustrates the ways in which daily life in the community is shaped by external influences and pressures. State agents monitor their behaviour, while private mining companies steal their resources and pollute their land. Holding the narrative (and day) together is a rap soundtrack composed by younger members of the collective, as well as audio clips from radio and television programmes. These are mostly from the Australian Broadcasting Corporation and relay statistics exposing the devastating deficiencies in Aboriginal communities. The film highlights the implications of a particularly damaging stereotype – that of Aboriginal parents being incapable of caring for their children. The mother's fear is an inherited one, one that is expressed in a recurring refrain: "We'll do what our elders did, we'll hide our children." This is one of many references to the so-called "stolen generations", thousands of Aboriginal and Torres Strait Islander children who were violently separated from their families between about 1905 and the 1970s.
Founded in 2008, Karrabing Film Collective is a group of around 30 filmmakers and artists who use their aesthetic practice as a mode of self-organisation and social analysis of inequality. The Karrabing members, most of whom are Indigenous, live in rural communities, predominantly within the Belyuen community of north-western Australia. In the Emiyengal Indigenous language, Karrabing means 'lowest point of the tide. It refers to a time of coming together, as well as to the coastline that goes beyond social lines to unite the Karrabing Film Collective as an extended family group.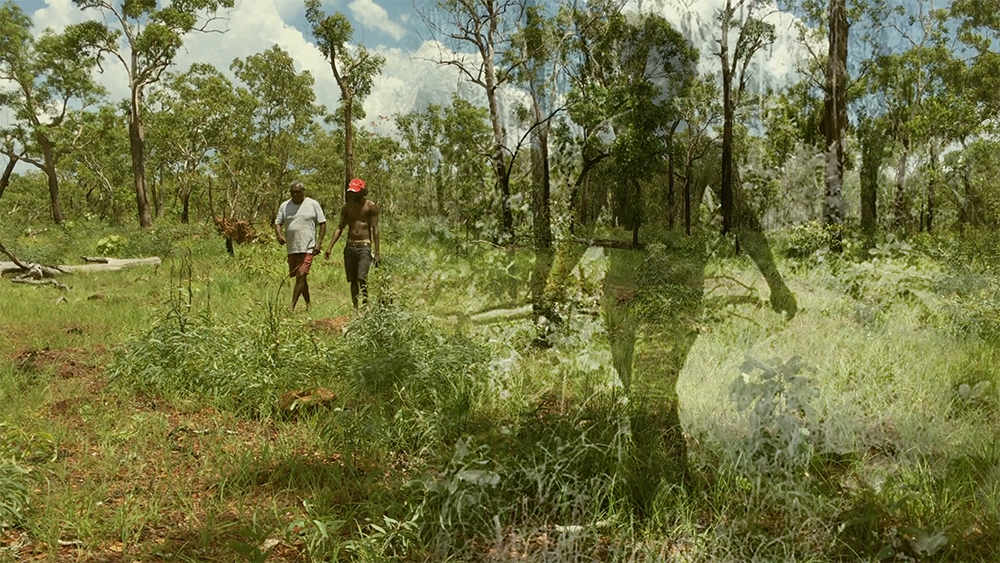 Black Box / Neubau der GfZK (Leipzig Museum of Contemporary Art)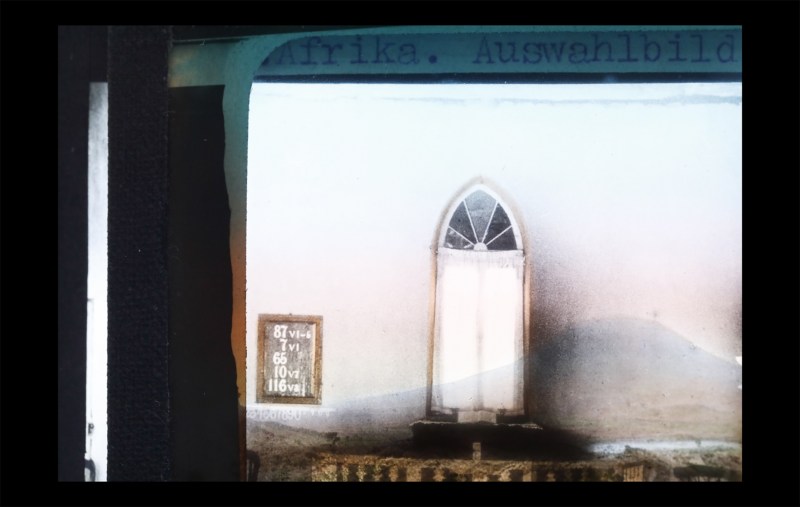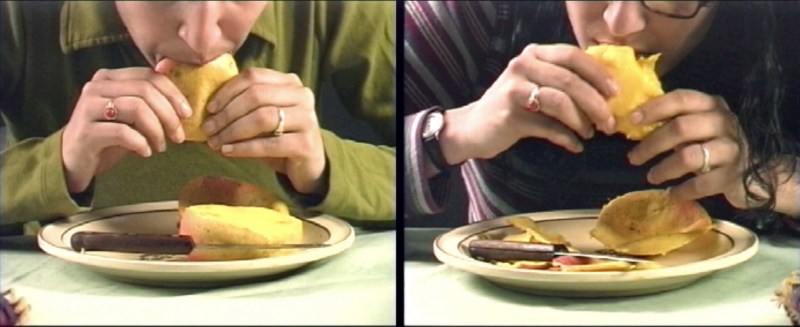 You Cannot Trust the Colors
Kathrin Winkler DEU 2021 15 min 2-channel video installation
Winkler collected photographic material from the Rhenish Mission Archive in Wuppertal - mostly private photographs of missionaries who were active in Sumatra, Namibia and Tanzania, for example, and who anticipated or accompanied colonization there. The archive has a large stock of hand-colored glass positives from all over the world, mostly private photographs of missionaries from the individual mission stations in the colonized areas.
A group of people gathered around a table, illuminated by the incident light, especially the face of one person. It is colored in a pale yellow, on it, mainly on the cheeks and mouth, red spots. A picture of a seashore: the water in all shades of blue and green that the color palette offers, the sky a gradient from orange to purple. Winkler addresses the question of how this colouring scheme came about and how it was shaped by the power structures different colonising actors imposed upon it. How did the missionaries and photographers decide on a colour scheme? What happens along the edges of a photograph? What happens beyond those edges? In a fragmentary fashion, the visual material is linked to fictionalised dialogues. The dialogues are based on real interviews with witnesses from colonial areas, while the coexisting layer of fictionalisation reflects on the way in which colonialism is represented and dealt with in socio-political discourses and in museums.
Katrin Winkler's artistic work moves between Expanded Cinema, intensive research, video and photography. The extent to which history is (in)visible and interwoven with the present is a recurring theme in her artistic practice. She studied at the Munich University of Applied Sciences (BFA), the Academy of Visual Arts and the California Institute of the Arts (MFA). Her work has been shown internationally e.g. at the Lagos Biennale, Berlinale/ Berlin International Film Festival- Forum Expanded, Sursock Museum Beirut and Neuer Berliner Kunstverein (n.b.k.).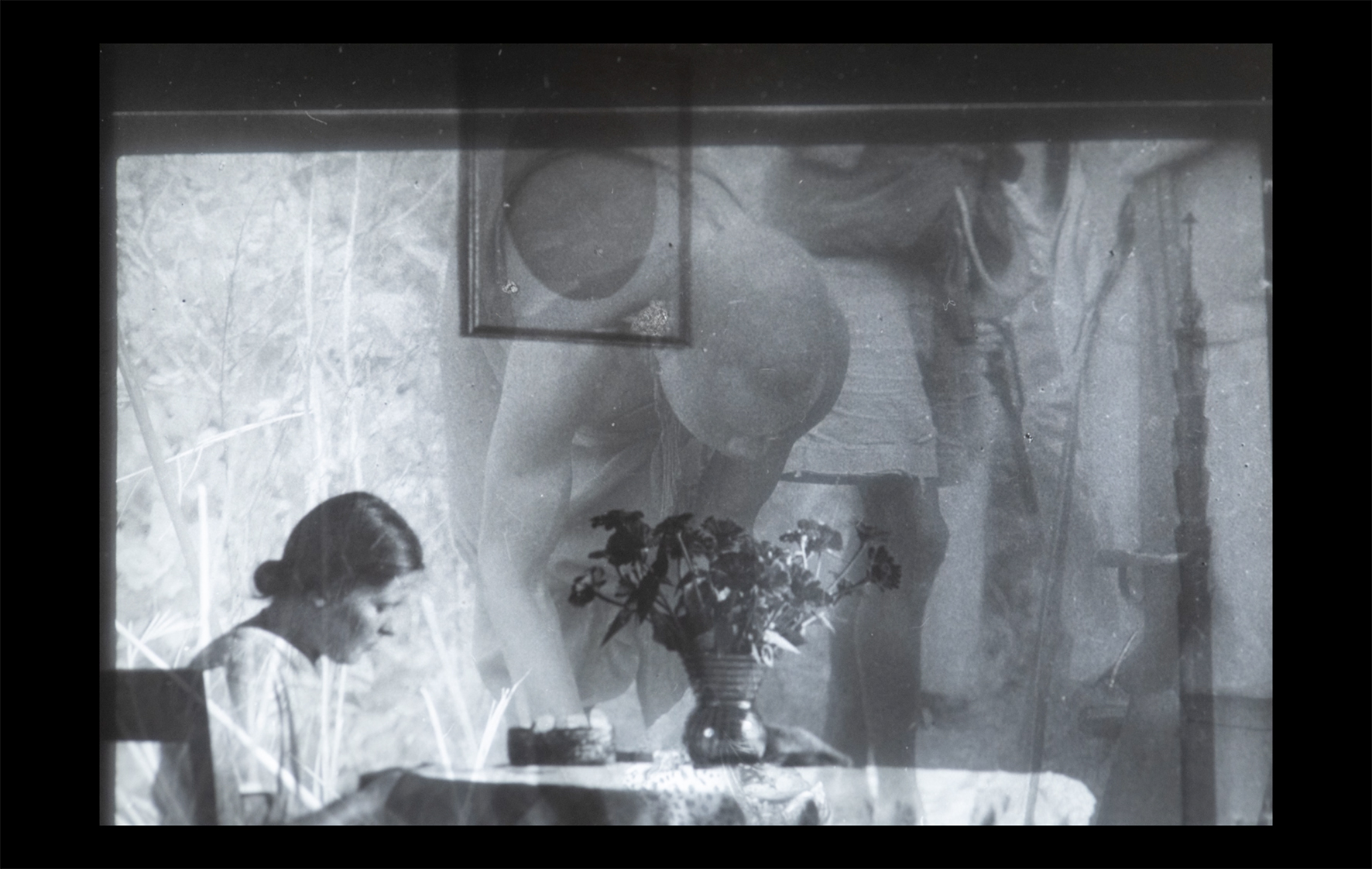 Mangoes
Bani Abidi PAK/DEU 1999 3 min 1-channel installation
Anthems
Bani Abidi PAK/DEU 2000 3 min 1-channel video installation
The News
Bani Abidi PAK/DEU 2001 2 min 2-channel-installation
In MANGOES, two expatriate Pakistani and Indian women sit and eat mangoes together and reminisce about their childhood. Their encounter turns sour when they start comparing the diversity of mangoes grown in either country – a comment on the widespread sense of nostalgia and nationalism that exists within the Indian and Pakistani Diaspora. Both women are played by the artist, stressing the idea of a shared history.
ANTHEMS addresses the role of music in the creation of patriotic sentiment and shows a split screen image of two young women (again, played by the artist herself) dancing to popular Indian and Pakistani songs. In an attempt to "out-sound" each other by increasing the volume, the video finally ends in a cacophony of noise.
THE NEWS is a 2-channel video installation mocking a news programme broadcasted on either side of the India-Pakistan border. Presented on two monitor screens, a Pakistani and an Indian news presenter relate separate versions of the same event. The script alludes to a well-known joke about an Indian and a Pakistani. The language used in the video is a Sanskritised Hindi of the official Indian language and a Persianised Urdu of the Pakistani state, a comment on the state's exclusivist policies and manipulation of the language in its attempt to construct its own identity.
Bani Abidi, born in Karachi, Pakistan, studied at the National College of Arts, Lahore, Pakistan and at the MFA at the School of Art Institute of Chicago, USA. She received a scholarship from the DAAD Berlin Artists-in-Residence Programme. Her work has been shown internationally, in places like Calcutta, Dallas, New York and Kassel. In 2019, she also exhibited her show "They Died Laughing" at Martin Gropius Bau in Berlin. Abidi lives and works in Berlin and Karachi.
PURPLE SEA
Amel Alzakout & Khaled Abdulwahed SYR/DEU 2020 67 min OmeU
SHIPWRECK AT THE THRESHOLD OF EUROPE, LESVOS, AEGEAN SEA: 28 OCTOBER 2015
Forensic Architecture GBR 2020 24 min engl. OV
Exactly 6 years ago, a migrant boat left the coast of Western Turkey heading to the Greek island of Lesbos. Worn and overcrowded with more than 300 passengers, it sank just a few metres after reaching EU territorial waters. PURPLE SEA tells the story of the shipwreck from the inside perspective of artist and filmmaker Amel Alzakout, who was a passenger on the ship and filmed it sinking with a camera attached to her wrist.
The images are a result of Alzakout's desperate movements as she attempts to find stability on the boat. The footage captures passing objects and bodies, loose and worn clothing, the signal colours of life jackets and offers little orientation for outsiders as to how the events on the boat unfold. Sea and sky blur into one, the horizon stands upside down. There is no rescue in sight. On a sound level, the sometimes muffled, sometimes clear soundscape of the catastrophe is accompanied by an off-screen commentary in which the director tries to find refuge in other places, in other times.
SHIPWRECK AT THE THRESHOLD OF EUROPE, LESVOS, AEGEAN SEA: 28 OCTOBER 2015 by research group Forensic Architecture analyses the incident by cross-referencing the footage of PURPLE SEA alongside weather data, satellite images and additional footage – whose producers include the Greek coastguard as well as photographer Richard Mosse, who happened to record the event with a high-resolution thermal imaging camera. Their work delivers a precise reconstruction of the events in which at least 43 people lost their lives while shedding light on the larger context of European boarder policies. The NGOs, smugglers, the European border protection agency Frontex, fishermen, who were operating under which conditions? Media reports published after the fatal tragedy which attested to a successful rescue operation by Frontex and the Greek coast guard, are critically examined here. Among other things, it is revealed that the isolation policy was already an established practice months before it was set in stone in an agreement with Turkey.
Forensic Architecture is a research agency based at Goldsmith College in London with a team comprised of software developers, filmmakers, lawyers and scientists of various disciplines. They investigate mechanisms of repression, state and corporate violence and environmental destruction, using various medial forms to present their research findings. The organisation of exhibitions and screenings and participation in parliamentary enquiries and court cases are seen as ways of shaping a counter-public sphere. Their works have been shown at Documenta 14, the Whitney Biennial and the Venice Biennale, to name a few.
Amel Alzakout, born in 1988 in Syria, works as an artist and filmmaker and lives in Leipzig. From 2010 to 2013 she studied journalism at Cairo University before studying art at the Weißensee School of Art from 2017 to 2018. In 2019, she enrolled in the media arts class at the HGB in Leipzig. PURPLE SEA is her first feature-length film, co-directed by photographer and filmmaker Khaled Abdulwahed. Her first collaboration, the 8-channel video installation STRANGER'S DIARIES was screened at paradoks in 2019.
Khaled Abdulwahed, born 1975 in Syria, is an artist, photographer, and filmmaker based in Leipzig. Between 1996 and 2000 he studied Fine Arts and Graphic Design at Adham Ismail art school in Damascus, Syria, and at Frederick University in Nicosia, Cyprus. Previous work includes short and feature-lenght films among others Bullet (2011), Tuj (2012), Slot in Memory (2013), Jellyfish (2016), Backyard (2018), Home Sweet Home (2020, with Amel Alzakout).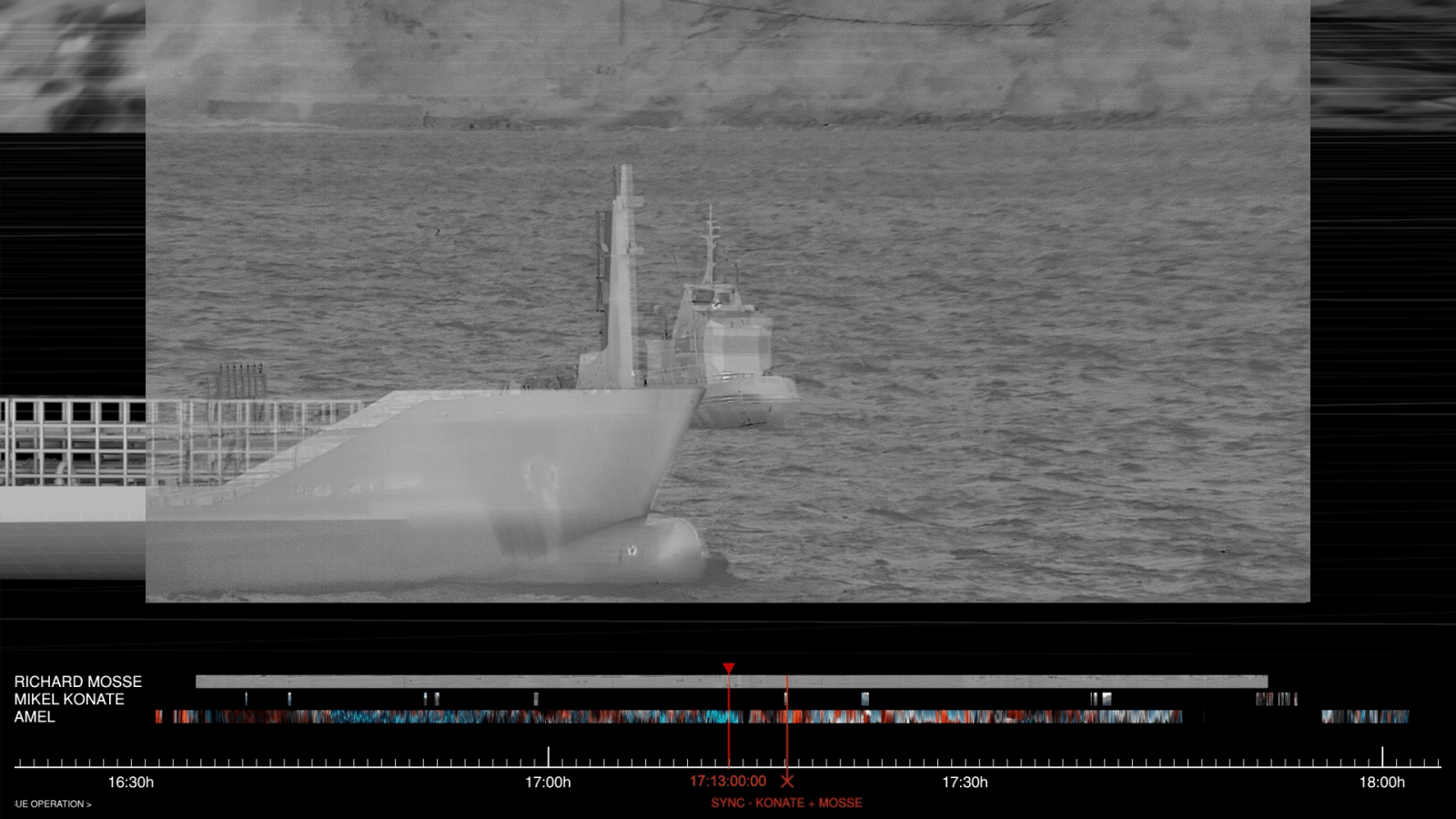 FORENSICKNESS
Chloé Galibert-Laîné FRA 2020 40 min french OV with subtitles
BOTTLED SONGS 1: THE OBSERVER
Chloé Galibert-Laîné & Kevin B. Lee DEU/FRA 2020 18 min french OV with subtitles
BOTTLED SONGS 2: LOOKING INTO THE FLAMES
Chloé Galibert-Laîné & Kevin B. Lee DEU/FRA 2020 18 min engl. OV
In Chloé Galibert-Laîné's video essay FORENSICKNESS, she references an existing film, WATCHING THE DETECTIVES by Chris Kennedy (2017), and investigative efforts discussed therein. These efforts refer to those made by the Reddit online community as they attempted to identify the assailants of the 2013 Boston Marathon attack in the 48 hours following the incident, by analysing surveillance camera and amateur footage available on the internet. This is complemented by footage from Hollywood adaptations of the incident, news reports as well as statements and self-dramatisations by FBI agents involved. Galibert-Laîné has created a sort of "desktop essay" by drawing on both onlinesourced visual material as well as web and software based approaches. Unlike Forensic Architecture, it does not provide any evidence relevant to criminal law, nor does it prove that any crime has been committed. Instead, it opens up a debate on the interpretive nature of images and their susceptibility to hermeneutic fallacies as well as exposing the reality of accusations being made based on racism and how authority establishes itself.
BOTTLED SONGS is an ongoing media project that explores strategies for dealing with online terrorist propaganda. Using desktop essays that cross reference each other, Chloé Galibert Laîné and Kevin B. Lee analyse IS films they have found online. Here they reveal how the stylistic devices of terrorists work as well as analyse their aesthetics inspired by Hollywood blockbusters, their pop cultural codes, and the layers of significance in their videos circulating social media. What the two researchers think and say here is informed by questions related to active, conscious and political perspectives and the significance of emotions, empathy and resilience in times where there is an endless influx of media images.
Chloé Galibert-Laîné (1992, France) is a researcher and filmmaker. She is currently finishing a PhD in the arts at the École normale supérieure de Paris. In addition, she teaches theory classes and artistic workshops on film and media at several institutions across Europe, including the Royal Academy of Art in The Hague and Johannes Gutenberg University. Her work mainly explores the intersection between cinema and online media. Galibert-Laîné has directed several award-winning short films and stage productions, and her video essays on film and media are regularly screened in academic contexts and at film festivals. She often works together with filmmaker and media artist Kevin B. Lee; they have presented their collaborative works at IFFR, True/False Film Festival, Open City Documentary Film Festival, Camden International Film Festival and London Essay Film Festival as well as art venues such as the Ars Electronica Festival and the WRO Media Art Biennale.
(Source: IFF Rotterdam)
Kevin B. Lee (1975, USA) is a filmmaker, media artist and film critic. He studied at the School of the Art Institute of Chicago, pursuing Master's degrees in Film, Video, New Media and Animation, and in Visual and Critical Studies. In his short films and documentaries, Lee often criticises the medium of film and the film industry. Over the last ten years, he has produced over 360 video essays. His award-winning film Transformers: The Premake screened at several festivals and was named one of the best documentaries of 2014 by Sight & Sound. He regularly works together with filmmaker and media artist Chloé Galibert-Laîné.
(Source: IFF Rotterdam)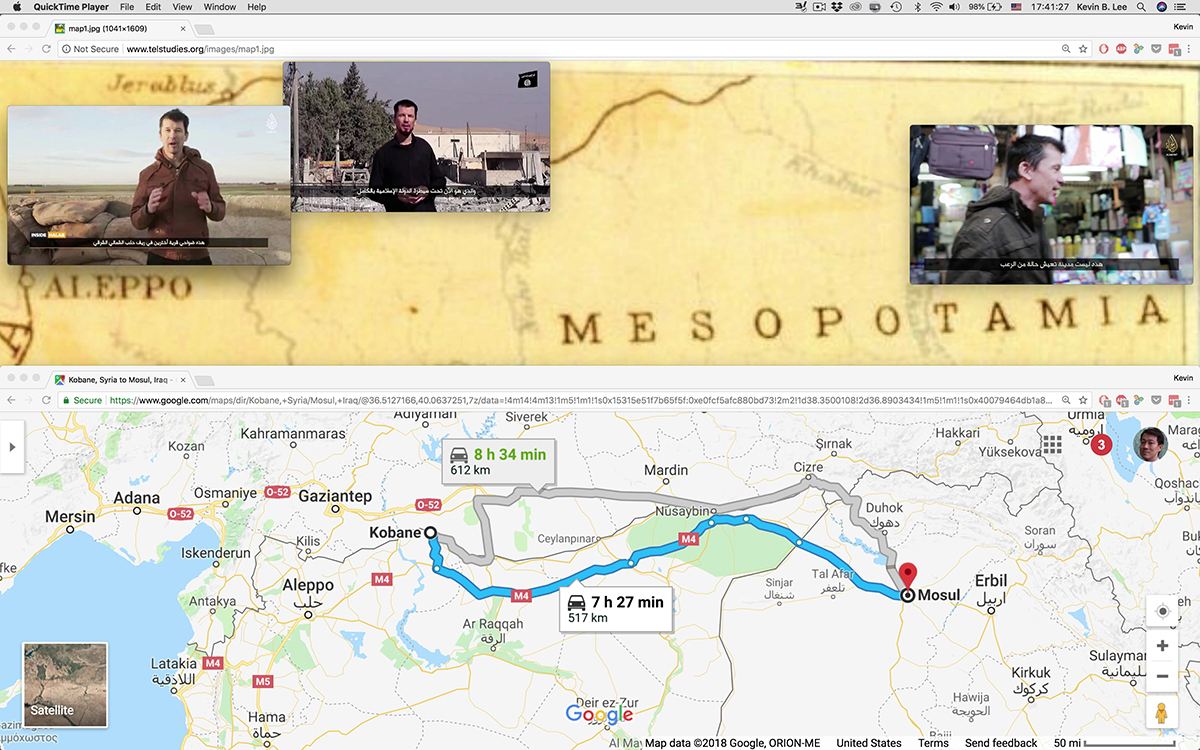 WRO ON TOUR: INTERSPACES | Short Films
RUINS IN REVERSE
Olena Newkryta UKR/AUT 2020 25 min Original version with subtitles
KOPACABANA
Khalil Charif, Marcos Bonisson BAR 2019 13 min Original version with subtitles
TRESPASSING
Francesca Fini ITA 2020 14 min no dialogue
MODELS FOR ENVIRONMENTAL LITERACY
Tivon Rice USA 2020 36 min Original version
This set of short films consists of video works from the 19th Media Art Biennale WRO 2021 REVERSO programme. WRO ART CENTER is a major forum for new media art in Wrocław, Poland, and one of the leading international art events in Central Europe.
The programme connects the past and future of human habitats in relation to the visible and invisible conflicts that arise between emotionally charged habitats, urban structures and the global ambience. Each work explores, to a certain extent, spaces within buildings, cities or even whole islands or natural environments and invites the viewers to look reverso – to look beyond the obvious. The hidden or unseen details that underly memories and emotion are traces of interactions between the human and nonhuman, which take place in urban and habitable spaces. The remaining afterimages are invisible to the naked eye.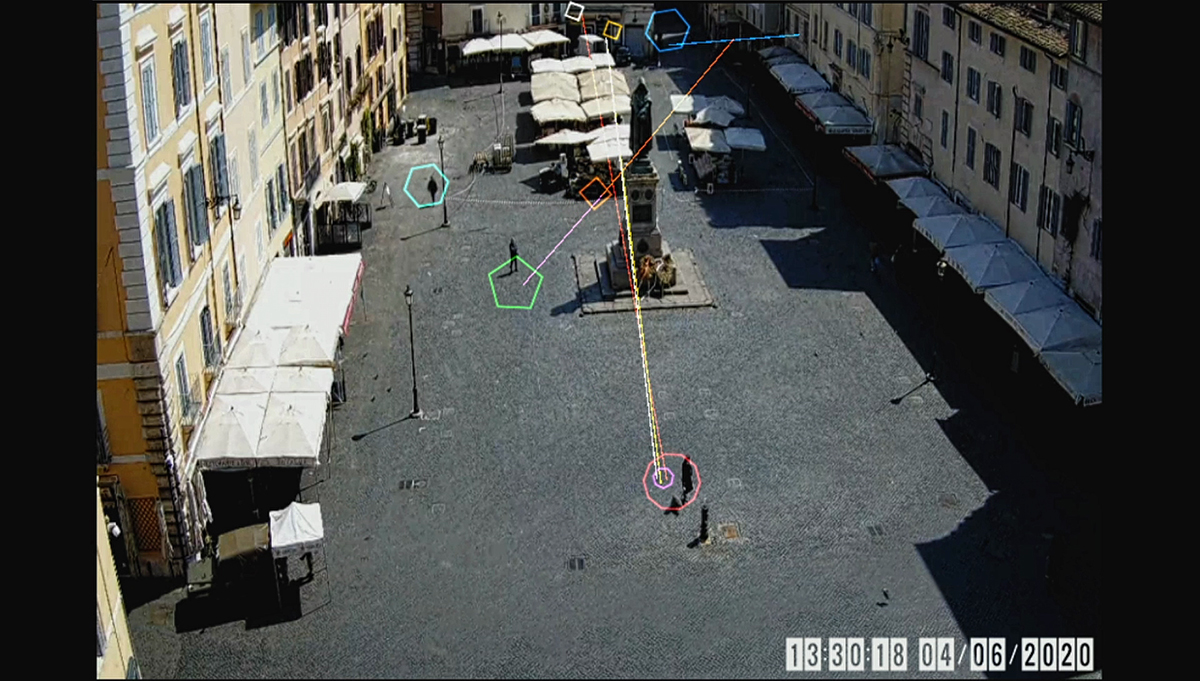 Download the programme booklet:
27 October, 2 pm at Spinnerei WERKSCHAU Hall 12, duration 1h
29 October, 2 pm, at GfZK & HGB, meeting point GfZK, duration 2h
25 October – 7 November, 2pm
- on Tuesdays and Sundays at GfZK & HGB, meeting point GfZK, duration 2h
- on Saturdays at Spinnerei WERKSCHAU Halle 12, duration 1h
8 November - 14 November, 2 pm
- Tuesday and Saturday at Spinnerei WERKSCHAU Halle 12, duration 1h
- Sunday at GfZK & HGB, meeting point GfZK, duration 2h
All guided tours are admission free.
No registration beforehand required, but preferred: paradoks@filz.works
Special tours for groups from 10 person on can be arranged on request.
Please respect the current regulations of the Saxony Corona Protection Ordinance. Please wear a medical face-nose-mask indoors.
artistic direction & curatorial team: Amos Borchert, Sebastian Gebeler,
Kathrin Lemcke, Jonas Matauschek, Ginan Seidl
public relations: Laura Bierau
presse@para-doks.de
mediation: Sarina Lacaf, Undine Rietz
technical supervision: Anna Maria Friedrich, Martin Hesse
finance: Hanna Saur
graphic design: Nick Teplov
social media: Jana Keuchel, Andrea Rüthel, Katharina Wittmann
trailer: Clara Wieck
documentation: Juliane Jaschnow, Kante, Stefanie Schroeder, Nick Teplov
//////////
venues:
HGB Gallery Leipzig
Wächterstraße 11, 04107 Leipzig
GfZK Leipzig
Karl-Tauchnitz-Str. 9 – 11, 04107 Leipzig
WERKSCHAU Halle 12
Leipziger Baumwollspinnerei
Spinnereistraße 7, 04179 Leipzig
Cinémathèque Leipzig
Karl-Liebknecht-Straße 46, 04275 Leipzig
IT HAS TO BE LIVED ONCE AND DREAMED TWICE
Filmscreening & AV-Performance von Rainer Kohlberger
6.11. 20.00 UT-Connewitz
First, there is nothing but white noise. Then, machine drones, distortion effects, flickering lights and colours kick in. The poetry of human-made noise is joined by an extraterrestrial interference. The bodiless voice reports of replicants that have replaced humanity. The story of IT HAS TO BE LIVED ONCE AND DREAMED TWICE by Berlin based video artist Rainer Kohlberger unfolds as an experimental film in a post-apocalyptic science fiction world. The complex sound design by Viennese multimedia artist Peter Kutin (TORSO, ROTOR, THE FIFTH WALL) is superimposed on patterns of ghostly images which have been unleashed and which dance inside the machine. There are what could well be, outlines of a once known planet while the off-voice narration continues to move in orbit. Following the thirty-minute film, Rainer Kohlberger improvises a live set that also develops from a white-noise crackle and ultimately morphs into waves of colour and light. Submerged in sound and images, the work facilitates introspection and the possibility of experiencing dissolving boundaries, immersion and trance for those present.
ROTOЯ
[SONIC BODY]
AV-Performance von Peter Kutin, Patrik Lechner & Mathias Lenz
With their collaborative project ROTOЯ [SONIC BODY], Peter Kutin (concept, composition, score), Patrik Lechner (video projection) and Mathias Lenz (mechatronics) merge their artistic interests in an unusual audiovisual live performance. With an increasing intensity and fuelled by the video light and live score, the central rotating object casts cascades of colour and sound into the darkness of the belly of UT Connewitz, which was built in 1912. The rotor transforms the reinforced concrete skeleton of the cinema, once conceived as a silent movie theatre, into a resonating body of geometric shapes and haunting waves of sound. With this performance, eardrums literally vibrate with pleasure while the sheer speed of the rotation combined with the inertia of the eye creates an experience of psychedelic quality.
Tickets: LINK